Mylène Martin, passionate breeder & owner of the Haras des Biches
Mylène Martin, founder of the Haras des Biches and passionate breeder, granted us an interview on the occasion of the presentation of a filly to be born, sister of Symphonie des Biches by Mélodie de la Vallée, in the catalog of the Ekestrian Flash Auction.
She talks about her career as a breeder, the quality of her bloodlines and details the rich Mélodie de la Vallée x Untouchable 27 combination.

Why and how did you become interested in breeding sport horses?
I have been a rider since I was a child and the horse sector has always interested me. After a break for my studies, I started riding again at the age of 23 and never left this universe. In 2002, I bought my first three broodmares and one year later, I arrived at the Haras des Biches. In 2004, I bought Mélodie de la Vallée (Damiro B x Lieu de Rampan) who was then 4 years old. I found her so good that the following year I bought her daughter Quetsche de la Vallée.

What is your breeding program like today? What is the particularity of your strains ?
I still have broodmares. Among them, Mélodie de la Vallée continues to produce and I have kept most of her daughters with the aim of working on this high quality bloodline, including Quetsche who is the dam of the superb Colombie des Biches, herself the dam of a broodmare by Montender.
Barbie des Biches, also by Mélodie, gave birth to the superb Festif des Biches, Very Good in the 5 year old CC and qualified in the 6 year old final with Marc Dilasser, who has just left for the United States, as well as a phenomenal 2 year old by Winningmood.
I sold Queen du Reverdy, the dam of the French 2-year-old Champion stallion Dumbo des Biches (Qlassic Bois Margot), but her blood is perpetuated through one of her daughters that I have kept.
I also use the bloodline of Salsa des Biches (Kakao Courcelle x Galoubet A) who gave birth to Comédien des Biches, Galilée des Biches and Farceur des Biches.
The most important thing for me in choosing a bloodline is the sporting quality; whether the dam has jumped, and whether she brings blood and respect.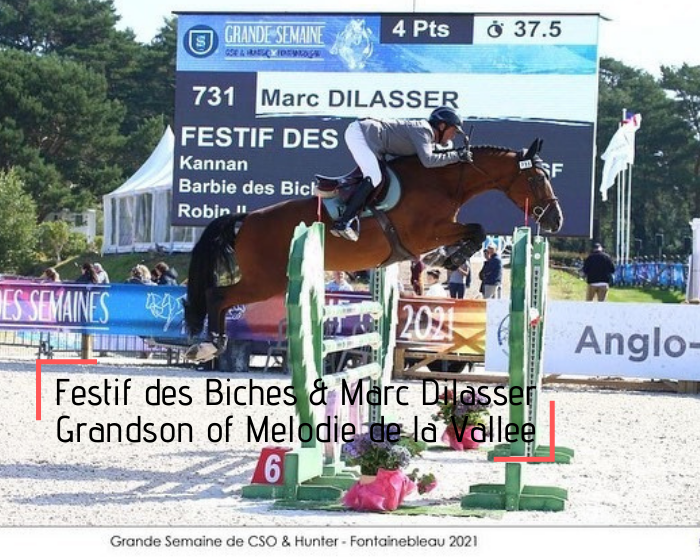 After your stud downsizing in 2019, what do you expect for your breeding in 2022?
My job as a breeder has changed and so have my goals, I am looking to do quality rather than quantity.
My mind is also less focused on value-adding. From now on, I sell my products earlier, and for that, I favor stallions recognized on progeny which will be complementary with my mares.

As a breeder, how do you prepare your crosses ? What are the most important criteria according to you ?
For the choice of stallions, I obviously look at the origins, but it is not the main factor, I focus on the characteristics of the mares. I work on instinct and I trust my experience. I am interested in the production quality of the stallions: power, galloping quality and strength in the back.
When I think about crossbreeding my goal is to make very good horses that are made for sport, based on sound values: health, solidity, and sporting qualities.

Can you tell us more about Symphonie des Biches? What do you think are her best qualities?
Symphonie is an excellent sport mare, although she is atypical. With the hindsight I now have on her dam's offspring, I am even more able to choose stallions that will be complementary to her, which will allow me to predict even better offsprings in the future.
For example, we can mention one of her sisters, who, at 5 years old, has remarkable qualities: classic in the model, modern, respectful and with blood.

When you cross the dam of Symphonie with Untouchable 27, what qualities are you looking for?
I like the production of Untouchable 27 very much, he fits perfectly with mares with blood, and brings strength. Moreover, he is recognized in France and abroad, I think it is a very interesting cross.

What is the moment you are most proud of in your breeding career ?
It is difficult to choose, but I have three that come to mind. First, the coronation of Dumbo des Biches, French Champion of the 2-year-old Stallions in Saint-Lô, in 2015.
Then, there are the performances of Twenty Two des Biches, 2nd of the 2016 World Cup Final as well as his participation in the Olympic Games. And finally, the 2017 Best Breeder Trophy awarded by the Éperon, and the title of Ambassador of the Studbook Selle Français.

How do you see the future of breeding, where are we going?
The breeding world has become much more professional and nothing is left to chance.
Prices are increasing, it becomes complicated to buy young horses at interesting prices. So riders have no choice but to produce horses themselves.
There are so many good breeders that you have to be very vigilant at all levels, and this from the youngest age (handling, maintenance, food, etc.)
I follow with attention the sales of foals and young horses, and we notice that the quality of horses increases, we see more and more good and beautiful horses, with excellent genetics.